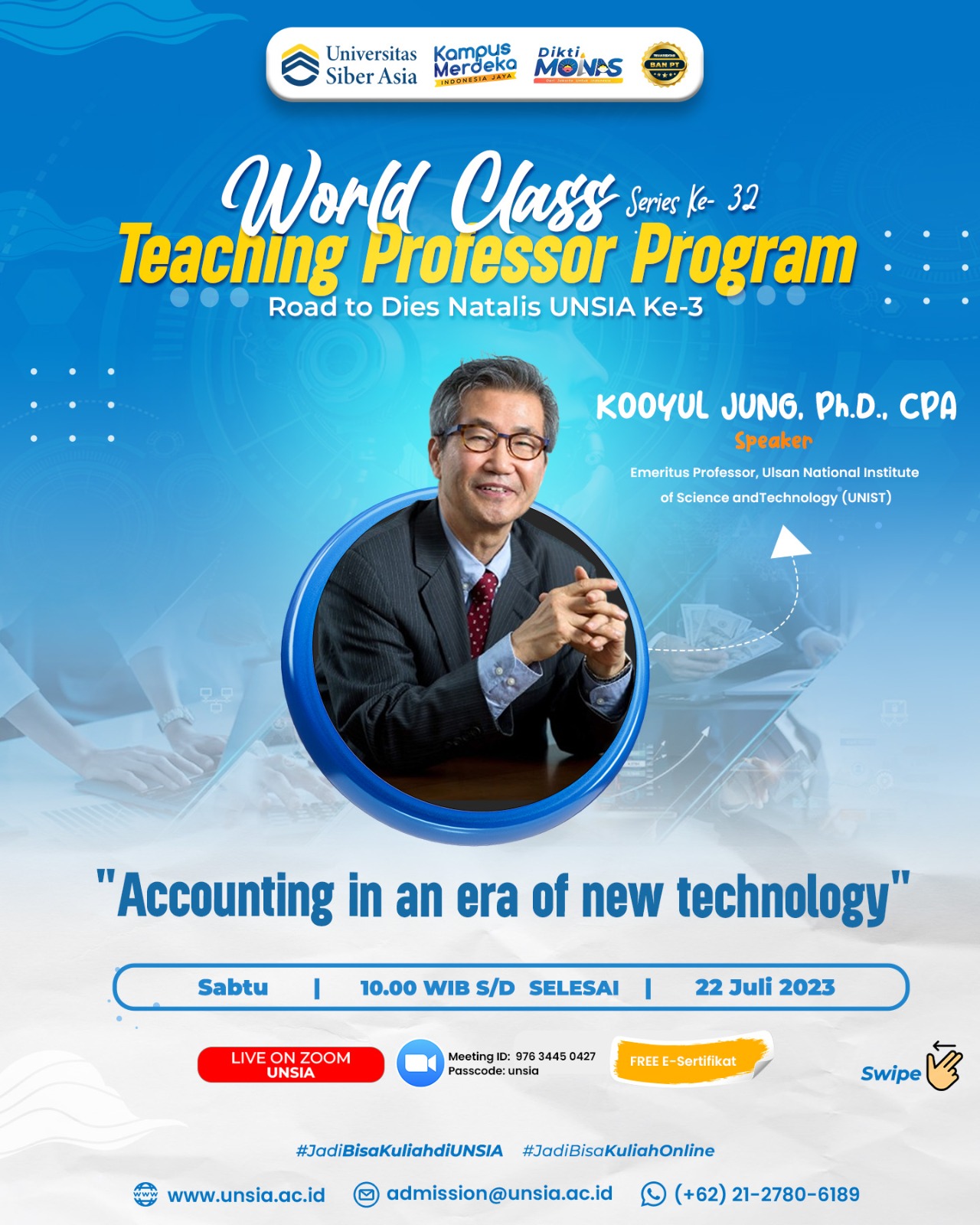 Webinar "𝐀𝐜𝐜𝐨𝐮𝐧𝐭𝐢𝐧𝐠 𝐢𝐧 𝐚𝐧 𝐞𝐫𝐚 𝐨𝐟 𝐧𝐞𝐰 𝐭𝐞𝐜𝐡𝐧𝐨𝐥𝐨𝐠𝐲"
866
866 people viewed this event.
UNSIA kembali mengadakan Webinar dalam rangka 𝑹𝒐𝒂𝒅 𝒕𝒐 𝑫𝒊𝒆𝒔 𝑵𝒂𝒕𝒂𝒍𝒊𝒔 𝑼𝑵𝑺𝑰𝑨 𝒌𝒆-3 dengan Tema:
"𝐀𝐜𝐜𝐨𝐮𝐧𝐭𝐢𝐧𝐠 𝐢𝐧 𝐚𝐧 𝐞𝐫𝐚 𝐨𝐟 𝐧𝐞𝐰 𝐭𝐞𝐜𝐡𝐧𝐨𝐥𝐨𝐠𝐲"
(Emeritus Professor, Ulsan National Institute of Science and
Technology (UNIST), Korea
A Member of the Advisory Committee for the President of Korea)
🗒️ Hari/tanggal: Sabtu, 22 Juli 2023
🕙 Pukul: 10.00 WIB s/d Selesai
✅ Ilmu yang bermanfaat dari perspektif internasional
Meeting ID: 976 3445 0427
https://bit.ly/webinarseries32-unsia
Yuk persiapkan dirimu dan segera bergabung. Sampai berjumpa di webinar kita yaa🙌
Link Absensi Sertifikat
Mohon Maaf Link absensi telah Ditutup.